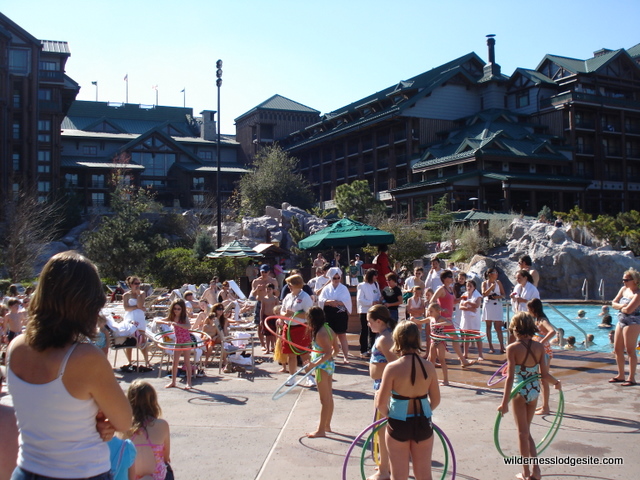 Wilderness Lodge is a truly complete Disney World resort. It's a resort where one could, if they so choose, check in and enjoy many activities and amenities without ever stepping foot in a Disney park.
But because this is Disney World, odds are you will be visiting the theme parks. But theme parks can take it out of you after a couple days, which is why we advocate building a resort day into your vacation itinerary.
Here are a few ideas to pique your interest as you put together your Wilderness Lodge Resort Day!
Kids Day
If you have kids, give them a treat by letting them decide what they would like to do around the resort. Odds are, they'll want to visit the Buttons and Bells Arcade. There's also an array of kid-friendly resort activities, such as Duck Races, Cookie Decorating, Hula Hoop Contests, and more! See this sample activities sheet to get an idea of what's offered, and check with resort cast members when you check in to get the latest schedule of activities.
Active Day
With Wilderness Lodge's prime location on Bay Lake, you'd be remiss to not take advantage! Consider a catch-and-release bass fishing excursion for you and your family. Or rent a boat or bike from Teton Boat and Bike Rentals. If you choose to go the bike route, head out onto the Lodge's Nature and Exercise Trails and explore the beautiful Florida surroundings.
Relaxing Day
If boating and biking sound a little too calorie-expending to you, and you'd really rather take a load off and relax, then park yourself in a chaise lounger at the Silver Creek Springs Pool. Bring a book and relax while the kiddos swim. Or, you could even take it a step further and book yourself a massage or facial at the Sturdy Branches Health Club and Massage Center.
Fort Wilderness Day
Fort Wilderness is close at hand when staying at Wilderness Lodge, so you set out on your choice of a Day Trip or Evening Trip. There's loads of amenities and activities, like the famous Hoop-Dee-Doo Musical Revue in the evening, or the guided Segway tour during the afternoon.
Informational Day
If you're the type who loves history and Disney lore, then plan your resort day around a couple different activities. First is the Wilderness Lodge Tour. It's offered Wed.-Sat. at 9 a.m. Next, A Conversation with a Steam Train Expert takes place a few times per month in the Carolwood Pacific Room at the Villas at Wilderness Lodge.
Do you love Disney's Wilderness Lodge? Join fellow fans over on our facebook page and follow us on our twitter feed @DisneyHotelsFan!