Welcome to the WildernessLodgeSite.com!
Don't forget to visit our blog for monthly stories and articles about what's going on
at Disney's Wilderness Lodge!
________________________________________________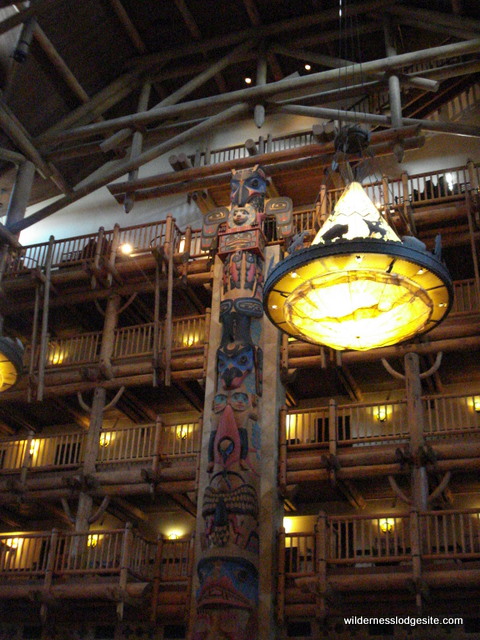 Opened on May 28, 1994, Disney's Wilderness Lodge is a "deluxe" resort themed after the grand forest lodges of the American Northwest, and located in Walt Disney World, Orlando, Florida, USA. It is located very close to Disney's Magic Kingdom theme park, but staying at the huge, serene, and beautiful Lodge makes you feel like you're miles and miles away from a theme park!
Guests at the Wilderness Lodge, which was actually built to evoke the grandeur of Yellowstone's 1904 Old Faithful Inn, find themselves amidst towering pines, dense forest, and a 450 acre natural lake. Next to the lake, Silver Creek flows down to the (not-so-natural, but still fun) Fire Rock Geyser!
But just walking into the lobby is a sensory experience like none other. You're immediately surrounded by 8 floors of towering Lodgepole Pine imported from Oregon; 55-foot authentic totem poles; an 82-foot fireplace built to represent the glorious colors and strata from the Grand Canyon; and representations of Northwestern Native American artifacts, myths, legends, and stories.
But the inspirational lobby area and fascinating history aren't the main draw of this hotel. The truth is, it's a 4-star resort that earns every star. Lodge guests are provided a luxurious resort hotel setting and top-notch service. You have access to unique restaurants, a multi-service spa and fitness center, incredible theme pools, jacuzzi hot tubs, a kids' zone and babysitting center, and fun and educational activities for adults and children.
Wilderness Lodge also houses the Boulder Ridge Villas at Wilderness Lodge, one of the most sought-after Disney Vacation Club properties. Villas range from studios to multi-bedroom suites, and can be booked whether you're a Disney Vacation Club member or not. See our Villas page for more information.
To us, Disney's Wilderness Lodge feels like home whenever we step through the front doors. We hope this site will give you a little feel for the place, or remind you of one of your favorite vacations. Feel free to check out and make comments on the Wilderness Lodge image galleries; and discuss your upcoming trip, ask questions about WL and Walt Disney World, or just meet others who are WL fans in the forums!