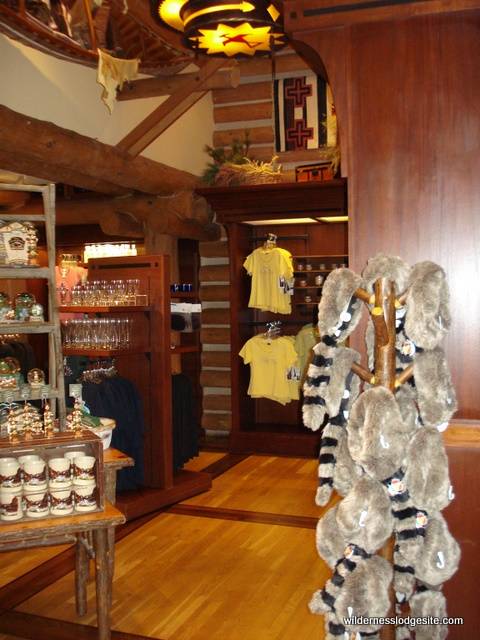 There's a lot of cool and unique merchandise at Wilderness Lodge. Much of it can be found at the Wilderness Lodge Mercantile.
Be sure to check out the variety of Northwestern and Wilderness Lodge specific merchandise, including Lincoln Logs and 'coonskin caps! There's plenty of Humphrey the bear and just plain bear-themed collectibles to choose from too.
Because this is Disney World, there's plenty of candy and snack options available. There's a grab-and-go beverage and snack area, plus a grab-and-go frozen food area for those staying in the Wilderness Lodge Villas with microwaves and ovens. There's also a grocery area, with staples like bread, milk, cereal available.
There's also lots of souvenir clothing to choose from, and even swimsuits if you forgot to pack yours. There's both Wilderness Lodge-specific clothing and Disney World clothing available, as well as Disney stuffed animals and children's books. There's also beautiful framed artwork pieces of the Wilderness Lodge itself — what a great keepsake!
If you left a toiletry at home, or if you're in need of medication, that's all available at the WL Mercantile. There's also magazines and books available for your trip home.
What do you typically buy during a stay at Wilderness Lodge? Leave a comment below!
Do you love Disney's Wilderness Lodge? Join fellow fans over on our facebook page and follow us on our twitter feed @DisneyHotelsFan!