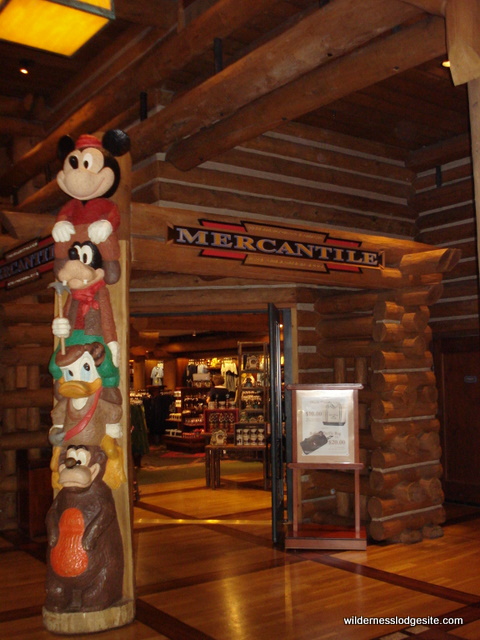 The Wilderness Lodge Mercantile is your one-stop shop for Wilderness Lodge souvenirs and gifts, as well as meal and snack items and various other sundries.
Located just off the main lobby, the WL Mercantile is a great place to kill time while you are waiting to be seated at Artist Point or Whispering Canyon Café.
Just outside the entrance to the shop, you will find a Disney Totem pole with the whole gang – Mickey, Goofy, Donald and Humphrey the Bear, the mascot of Wilderness Lodge. It's a great photo opportunity.
Inside, there are two life-sized wood bear carvings that are a must-see. And be sure to check out the stone fireplace too.
Be sure to take a look at the variety of Northwestern and Wilderness Lodge specific merchandise, including Lincoln Logs and 'coonskin caps! There's plenty of bear-themed collectibles to choose from too.
There's also lots of souvenir clothing to choose from, both Wilderness Lodge-specific and for Disney World, as well as Disney stuffed animals and children's books.
If you left a toiletry at home, or if you're in need of some over-the-counter medication, that's all available at the WL Mercantile. There's also magazines and books available for your trip home.
There are plenty of candy and snack options available. There's a grab-and-go beverage area, and a grab-and-go frozen food items area, geared towards those staying in the Wilderness Lodge Villas. There's also a grocery area, with staples like bread, milk, cereal available.
What's your favorite item that you've picked up at the Wilderness Lodge Mercantile? Leave a comment below.
Do you love Disney's Wilderness Lodge? Join fellow fans over on our facebook page and follow us on our twitter feed @DisneyHotelsFan!
This post is part of the DisMarks Disney Blog Carnival! Check it out for more great Disney-related content and information.