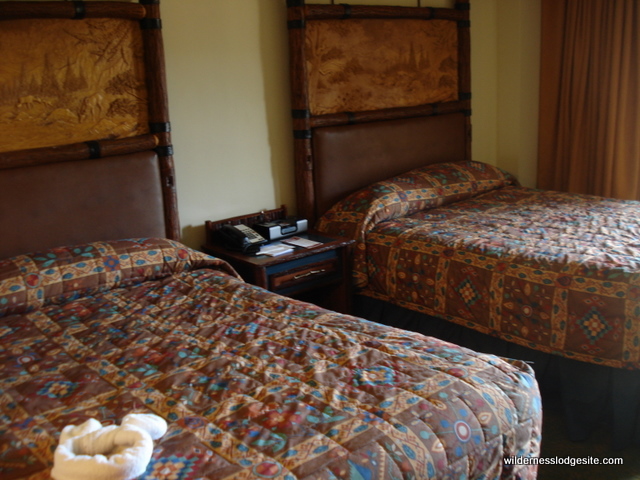 There are several types of rooms at Wilderness Lodge. Within the Old Faithful Club concierge level of rooms, there are several types of rooms to choose from: standard rooms, honeymoon suites, junior suites / deluxe rooms, the Vice Presidential Suite and the Presidential Suite.
We're going to take a look at what the Junior Suite, or Deluxe room, has to offer. These rooms are located on the first six floors of the Wilderness Lodge and offer a view of Bay Lake, woodlands or interior courtyard areas.
The suite can sleep up to 6, with two queen size beds in the bedroom and a queen-size sleeper sofa in the sitting area, separated from the bedroom by French doors. You'll have a private balcony or patio, table and chairs, Pack 'n Play, in-room wall safe, ceiling fan, and a vanity area with 2 sinks and bath.
Appliances include 2 televisions, alarm clock, coffeemaker, DVD player, hairdryer, iron and ironing board, and refrigerator. All rooms are non-smoking, and wheelchair accessible rooms are available.
The best part about a deluxe room is access to the Old Faithful Club, which includes advance itinerary planning ahead of your trip and front desk and concierge service from 7 a.m. to 10 p.m.
There's also evening turndown service with chocolates, complimentary health club access, fax machine access, and weekday USA Today nwspaper delivery.
Many say the best part of Club Level is access to the Club Level Lounge, which serves refreshments daily: continental breakfast from 7 a.m. to 10:30 a.m.; midday snack from 11:30 a.m. to 4 p.m.; evening wine and cheese from 5 p.m. to 7 p.m.; and evening cordials and desserts from 8 p.m. to 10 p.m.
One commenter told us that her Junior Suite was definitely worth it when we asked, Wilderness Lodge's Old Faithful Club concierge level – is it worth it?
What about you? Do you like to splurge on Club Level when staying at Wilderness Lodge? And have you ever stayed in a Junior Suite, or Deluxe Room, as Disney World now calls them? Leave a comment below!
Do you love Disney's Wilderness Lodge? Join fellow fans over on our facebook page and follow us on our twitter feed @DisneyHotelsFan!