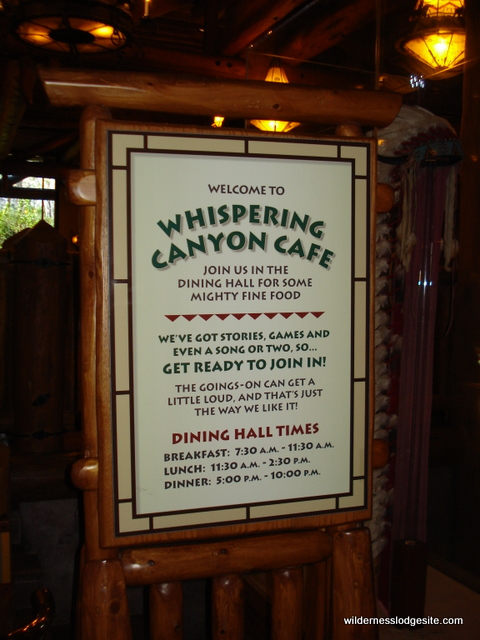 When you walk into the Wilderness Lodge and there's a commotion going on, it's probably coming from the Whispering Canyon Cafe!
This is Wilderness Lodge's mid-priced restaurant, open from 7:30-11:30am for breakfast, 11:30-2:30pm for lunch, and 5:00-10:00pm for dinner. Lincoln Logs, Cowboys and Indians, and fun and games reign supreme here, and you'll be served by any number of funny–and potentially difficult–waitstaff, doing their best to stay in character and make you laugh!
The word of the day at Whispering Canyon Cafe is "skillet," and that's definitely what you should order when you're here. All day long the skillets offer an exceptional value for families looking to get a hearty meal on a limited budget. These all you care to eat masterpieces are a popular way to feed the hungry troop. However if you're looking for something with some singular style there's a broad variety of entrees on the menu as well, we're quite fond of the meatloaf.
At breakfast time, this means all-you-can-eat scrambled eggs, Mickey waffles, bacon, sausage, biscuits, and gravy. For lunch and dinner, you'll sink your teeth into western BBQ ribs, beef, chicken, and all the fixins for just about $17 per adult. Though there are no "Characters" at Whispering Canyon the wait staff has more than enough character to keep the whole family entertained. When you pair that with hobby horse rides and cowboy humor and it's enough to keep the whole family entertained.
Whispering Canyon Cafe accepts both Tables in Wonderland and the is 1 TS Credit for the Disney Dining Plan.
Just be sure to ask for the ketchup!