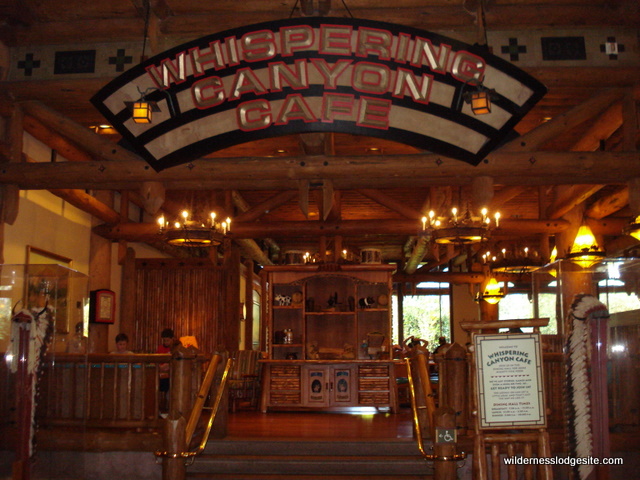 Whispering Canyon Café is a pretty popular restaurant at Disney World, but it can be divisive among fans. Though most people seem to enjoy the setting and atmosphere, those who don't seem very passionate in their disdain. Whispering Canyon is a love it or hate it kind of place, and many of those who hate it do so because they don't have the right expectations.
Whispering Canyon Café is rowdy. It's slapstick. It's raucous. And it's pretty darn funny if you go in with the right attitude. Servers, who often adopt an "old west" character and outlandish personality, are instructed to goof around with guests — almost to the point of jovial rudeness! In my visits to Whispering Canyon Cafe, I've had straws and napkins thrown at me, snarky comments made about how much diet soda I can down, and announcements made to the entire restaurant about my love life! So you can see why you might need to head into the Whispering Canyon Cafe ready for just about anything.
But, aside from the comedic atmosphere of the restaurant, you can also expect some pretty good food. The feature in this restaurant is its skillet meals. For breakfast, you can order all-you-can-eat eggs, Mickey waffles, sausage, bacon, potatoes, and biscuits and gravy; and for lunch and dinner, they'll rustle up refillable skillets of barbecue pork ribs, chicken, pork sausage, beans, corn on the cob, coleslaw, mashed potatoes, and corn bread. For under $20, these refillable skillets register a good value as well! No worries, though, there are plenty of other menu items if the skillets aren't for you.
Another great menu item at Whispering Canyon is the all-you-can-drink ice cream shakes! These are well respected in the shake-loving community, so order with abandon!
Now, here's a little tip for you: whatever you do, don't ask for ketchup unless you want to cause a scene!
Do you enjoy the Whispering Canyon Cafe, or did you have a less-than-stellar experience here? We'd love to hear about it in the comments below, or over on our facebook page!
To see more photos of Whispering Canyon Cafe, visit our image gallery of Whispering Canyon Cafe pictures!
Do you love Disney's Wilderness Lodge? Join fellow fans over on our facebook page and follow us on our twitter feed @DisneyHotelsFan!
This post is part of the DisMarks Disney Blog Carnival! Check it out for more great Disney-related content and information.