The Whispering Canyon Cafe has earned it's place among the most fun and exciting of Disney's table service restaurants. Though we're huge fans of the food being thrown down on the table, what really makes the meal is the servers. On my last trip I had the chance to talk to the restaurant's manager about the famous (infamous?) antics that happen during a meal. She shared with me that boisterous Cast Members are truly the heart of the show as each of them is free to create their own material and attitude in service.
The "show" really flows from the interactions that the servers have with their guests, as each table changes, the cast members need to think on their feet and be aware of what's going on at their station. It's important that they are able to read the guest dynamics in order to create a friendly atmosphere and memorable experience; without crossing a line and offending someone. You never know what sort of mood you'll be walking in to when you arrive for your reservation at Whispering Canyon, and every experience will be as different as the guests and cast members inside. Just remember that the more fun you're having, the more fun for you they'll make!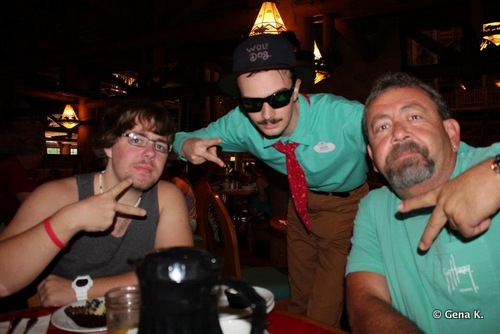 Our reader and fellow Wilderness Lodge Fan Gena K. sent us a couple of fun pictures from her recent trip to the Whispering Canyon Cafe. We love those wacky servers who go above and beyond to make sure you have everything you ask for at the table. Gena's party was more than taken care of when they needed the Ketchup!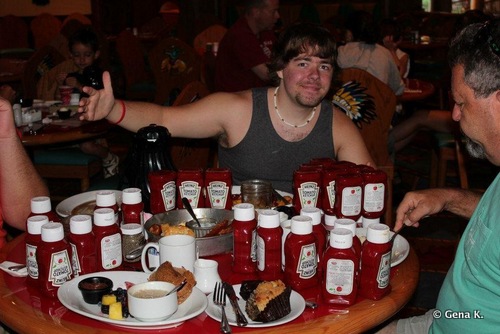 Thanks so much for sharing these fun pictures!
Do you have a great Whispering Canyon Cafe story? Have you gotten a little more than you asked for when eating at there? Leave a comment and let us know what keeps bringing you back to this fun Disney Dinning establishment!