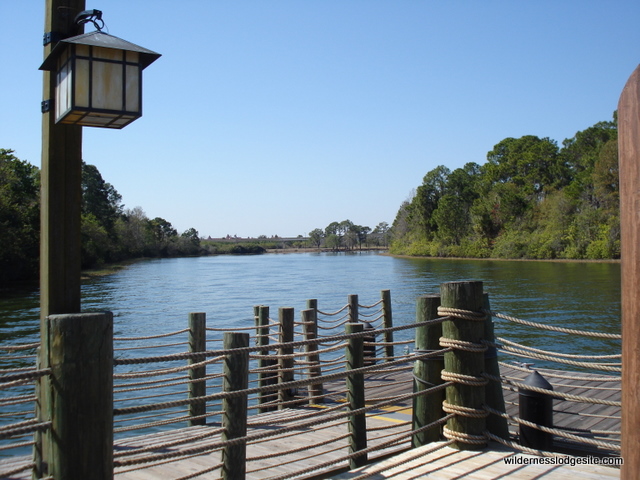 Editor's Note: As of January 2016 the north-facing rooms (those that look out at the Contemporary, Otter Pond, and the Magic Kingdom) will see work beginning on the waterfront cabins. Many of the trees have been removed so the "woods view" is more like a "construction site view."
As we reported a few weeks ago, the Wilderness Lodge is planning to add 26 waterside bungalows to its Disney Vacation Club portfolio, and they'll be similar to the over-the-water bungalows at Disney's Polynesian Villas and Bungalows.
Construction on these bungalows is starting in October, which means several areas at the resort will be impacted.
The impacted areas include the resort's beach, the playground, the fire pit, and the Hidden Springs leisure pool. The main feature pool – which just went through a renovation last fall – will remain open.
Boat and bike rentals, the nature trail, and the resort's spa will also be unavailable. Guests will be able to visit Fort Wilderness or the Contemporary to rent boats.
Guests with reservations at Wilderness Lodge are beginning to receive letters from Disney explaining the construction project.
We spoke with Disney Guest Services and they said the DVC Villas will see the most impact from the construction this fall. The Hidden Springs leisure pool is being completely refurbished so the removal of concrete is going to be extensive. And very loud. The other major impact will be at the beach and the nature trails. The main feature pool, geyser, main hotel building, and even the boat docks will not be impacted other than by noise. Construction will begin each day at 9 a.m. and will end at 7 p.m. The Guest Services cast member said the Wilderness Lodge will still be "amazing" for guests and they are also trying to do everything they can to make the guests' visits as magical as possible in light of the construction project.
Are you concerned about this project impacting your stay at Wilderness Lodge? Leave us a comment and let us know.
Do you love Disney's Wilderness Lodge? Subscribe to the monthly Disney Hotels Fan newsletter! Join fellow fans over on our Facebook page and follow us on our Twitter feed @DisneyHotelsFan.