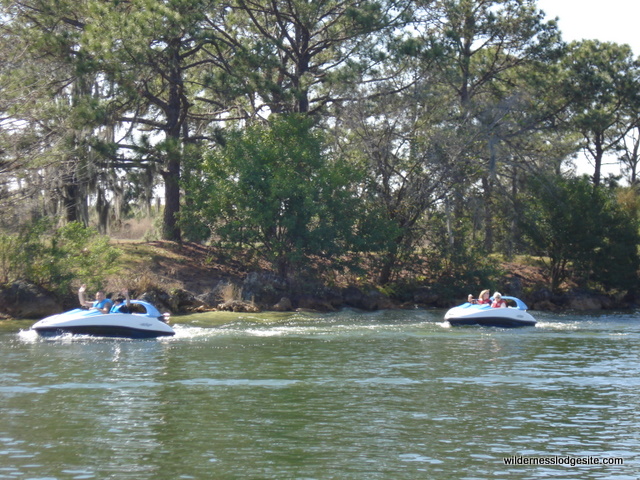 We love the excitement of Bay Lake and Seven Seas Lagoon–what better way to spend an afternoon than floating by and seeing close-up the old docs and bridges of Discovery Island and River Country, or zooming past the Magic Kingdom on a Sea Raycer boat?
But if heading out on the seas isn't for you, grab your family and snag a few bikes for an afternoon exploring the nature trails of Fort Wilderness and Wilderness Lodge. That's surely a way to work up your appetite for Whispering Canyon Cafe later on!
The marina's opening hours change seasonally, but usually run from around 10am-5pm. Selected pricing and specifics are below.
Sea Raycer: $32/30 mins, $40/45 mins, $45/60 mins
Montauk: $45/30 mins
Pontoon: $45/30 mins
Specialty (this means "fireworks") cruises: $250/basic, $300/premium. Call 407-wdw-play 90 days ahead to book.
Bike: $9/hour, $18/day
Surrey Bike: $20/30 mins for 2 seater, $22/30 mins for 4 seater
Wilderness Back Trail Adventure (Segway Tour in Fort Wilderness): $85/person, 16 years and older
Please note:
In Montauks, driver must be at least 18 years old, and there is a 6-person max
In Pontoons, driver must be at least 18 years old, and there is a 10-person max
In Sea Raycers, driver must be at least 12 years old and there is a 320 lb. max
Helmets are required for lone bicyclers under 16 years old
Surrey bike drivers must be at least 18 years old
Remember that Annual Passholders get a discount on boat and bike rental! See the image gallery below for more pictures.
You can also book water sports with Sammy Duvall's Water Sports Centre at the Contemporary Resort; this includes water skiing, tubing, wake boarding, parasailing, and personal watercraft excursions. Also available at the Marina are Bass Fishing Excursions–see our Bass Fishing page for specific info.