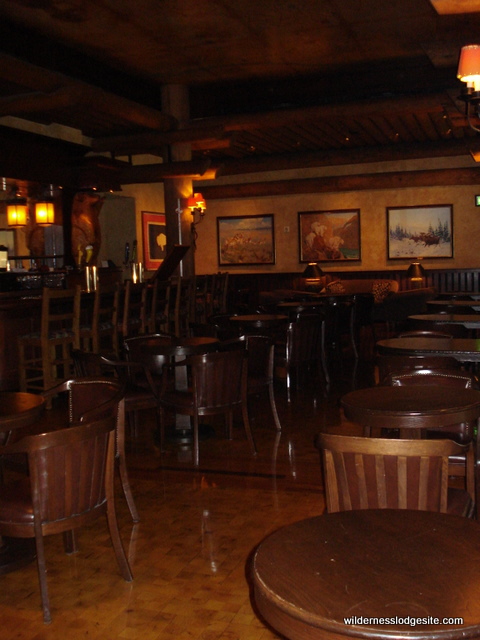 Territory Lounge is the place to stop for a pre-dinner drink, a night-cap, or to relax with friends or family members and soak up the Northwestern atmosphere.
Open from 4:30pm – midnight daily, the Territory Lounge is located in the Resort's main lobby nestled between Artist Point and the Whispering Canyon Cafe. It's seldom crowded and the friendly staff make it a welcoming place to wind down after a long day at the Parks.
Cozy furnishings, natural leathers, dark wood finishes, and wonderful bartenders make this a friendly, comfortable place to spend an evening. Tree trunks carved into grizzly bears hold up the bar and American artwork adorns the wall, taking you on a journey through the frontier. On the ceiling you'll find an elaborate rendition of Lewis and Clark's trail map.
The Lounge offers a full bar and a menu of "pub grub" with fan favorites of Pulled Pork Flatbread and the Honey Ginger Chicken Wings. Wine lovers will delight in the access to Artist Point's award wining wine list, featuring a wide body of delicious selections from Washington and Oregon State. Specialty beers include Samuel Adams' White Ale, Moosehead, and Red Hook. Cocktails include a Pomegranate Splash, Pear Blossom Cosmo, Tommy Bahama Mama.