Sturdy Branches Health Club is where you go to build up an appetite for all those yummy Disney snacks, or to, ahem, work off all those yummy Disney snacks after the fact!
WORK OUT
Located inside the Villas at Wilderness Lodge building, Sturdy Branches is outfitted with cybex weight machines, a smith machine, cables, swiss balls and mats, free weights, and a full array of cardiovascular equipment. The club has three televisions for entertainment during your workout.
Fitness hours are 6am-9pm daily, though you can check with the front desk to get a free 24-hour key card giving you access to the club equipment whenever you need it. This is for Wilderness Lodge resort guests only. If you are not a guests of Wilderness Lodge and Villas, you can still use the facilities for a cost of $12 per day.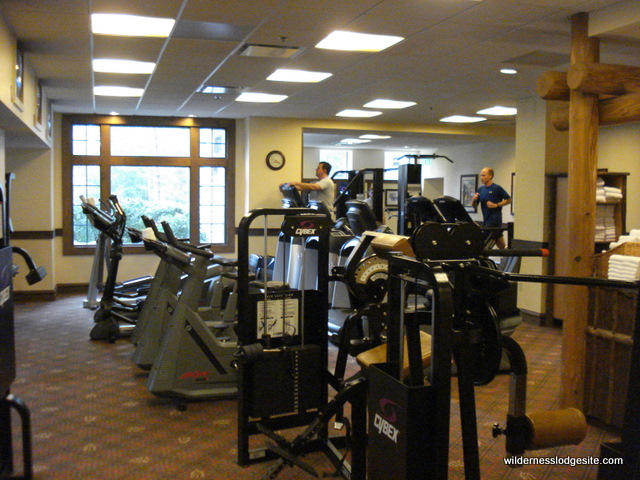 We're pretty active when we're at home and we have no problem getting in a full workout at Sturdy Branches, so you shouldn't be concerned about having to modify your normal gym routine when visiting the Wilderness Lodge.
Personal training is available with 24 hours advance notice. Call 407-938-4222 for an appointment.
MASSAGE AND BODY TREATMENTS
Nikki Bryan Spas has been contracted to run all of Disney's massage and spa treatment centers, and they do a great job. Massage treatments are available from 9am-7pm each day, and should be booked as far ahead as possible by calling 407-938-4222.
Here are a few of the available treatments; prices are subject to change:
Swedish Massage:
Enjoy a relaxation massage of traditional long strokes and kneading techniques. This therapy increases circulation, soothes tired muscles and relaxes the body. (25,50 & 80 minutes) $65, $90 & $140

Firm Pressure Massage:
Your therapist will utilize their experience in different techniques to relax you and relieve the symptoms of built up tension in the muscle tissue. Using Deep Heat oil to penetrate the muscle allows a greater level of relaxation. This is a moderate to firm massage.
(50 minutes) $105

Aromatherapy Massage:
You and your therapist create a customized Swedish massage with the added benefits of pure aromatic, herbal essential oils.
(25,50 & 80 minutes) $80, $105 & $155

Sauna


European Aromatherapy Facial:
Let exotic aromas relax your mind, while herbal ingredients cleanse and nourish your skin. Experience a deep-cleansing and relaxing mini-vacation for your skin. This facial is customized for all skin types.
(50 minutes) $ 100

Gentlemen's Facial:
A deep-cleansing and purifying facial designed especially for men. Great for skin irritated by shaving and exposure to the weather. A hydrating treatment that leaves your skin smooth and refreshed.
(50 minutes) $100

My First Facial:
A mini facial especially designed for our young guests, 10-14 years of age, to introduce the basics of good skincare. A fun and educational primer for a lifetime of healthy skin.
(25 minutes) $65

Aromatherapy Massage and Body Wrap:
Experience the calming and therapeutic effects of our signature treatment. A custom aromatherapy massage is followed by warm compresses and heat as you are lightly wrapped to encourage the bio-absorption of nurturing essential oils. A luxurious scalp massage is the final touch as your body and psyche experience a state of total relaxation.
(110 minutes) $185

Refining Body Toner:
This treatment begins with a gentle exfoliation; your body is then cocooned in a comforting body wrap while you enjoy a scalp massage for total relaxation. (80 Minutes) $185

Handicap Accessible Shower in Changing Room

Handicap Accessible Shower in Changing Room

Lockers

Handicap Accessible Bathroom in Fitness Center

Bathroom

Hairdryer in Changing Room

Massage Room

Entrance from Outside Villas

Entrance from Inside Villas

Weight Equipment

Swiss Balls and Mats

Cardio

Weight Equipment

Cardio

Cardio

Smith Machine, Cables, and Free Weights

Sauna

Sauna Rules

Sauna Temp Gauge

Sauna

Sauna