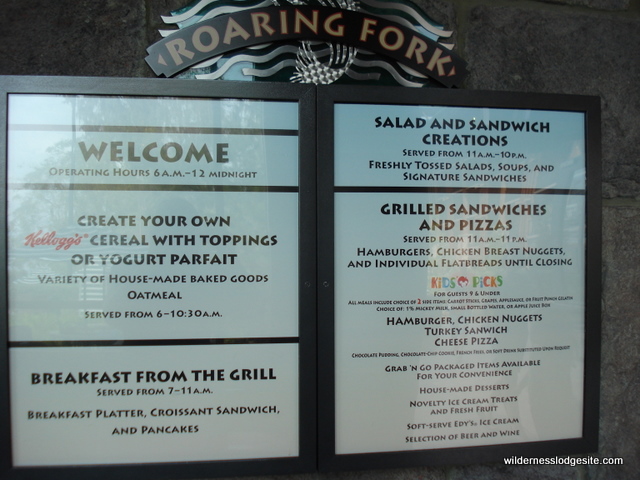 The Roaring Fork is The Wilderness Lodge's quick service restaurant, serving breakfast, lunch, and dinner. Roaring Fork is located to the left of the lobby, down a ramp toward the Hidden Springs Creek Pool. There are outdoor and indoor eating areas, and the outdoor eating area is located very close to the pool.
Roaring Fork is the place for cereals, oatmeal, and baked goods from 6-10:30am (hot breakfast sandwiches, eggs, and pancakes are available from 7-11am); soups, salads, and signature sandwiches from 11am-10pm, and grilled sandwiches and pizzas from 11am-11pm. Specific lunch and dinner items include hamburgers, chicken nuggets, flatbreads, turkey sandwiches, etc.
Grab and go items (fruits, cold sandwiches, etc.), house-made desserts, ice cream treats, soft-serve ice cream, beer, and wine are available from 6am-11pm.

This is also the place to purchase and refill your refillable mugs for around $13. These can only be refilled at the Wilderness Lodge, and only for the duration of your stay. Most meals at Roarking Forks use 1 Counter Service Credit on the Disney Dining Plan. You can also stop in for a snack from the grab and go section.