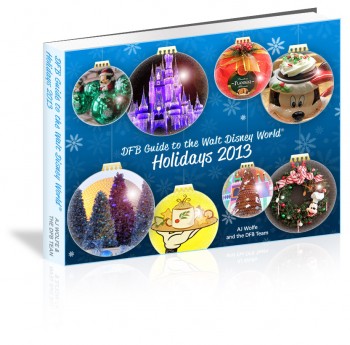 As you're planning your holiday visit to the Wilderness Lodge, there's one thing you can't forget to add to your packing list. We're talking about the 'DFB Guide to the Walt Disney World Holidays 2013' e-book!
Authored by the Disney Food Blog's AJ Wolfe, this e-book is full of updated holiday tips and new information that you must know before visiting Walt Disney World Resort in November, December, and January.
You'll find all the news about the Wilderness Lodge's holiday happenings, including information on the resort's famous holiday displays like the lobby's incredible Christmas tree. There's also information on holiday dining at the Wilderness Lodge, including Thanksgiving and Christmas Day dining at Artist's Point and Whispering Canyon Café!
Readers will also find detailed descriptions and photos of every holiday event and activity, a comprehensive holiday dining section listing snacks, treats, and meals, a clickable three month schedule of holiday events, listings and photos of Disney Resort holiday décor and gingerbread displays, tips on saving money at Walt Disney World over the holidays, a new for 2013 section, scavenger hunts, and more.
For more information and to download your copy of the DFB Guide to the Walt Disney World Holidays 2013 head over to the DFB Store.
Are you spending the holidays at the Wilderness Lodge? Leave us a comment and let us know!