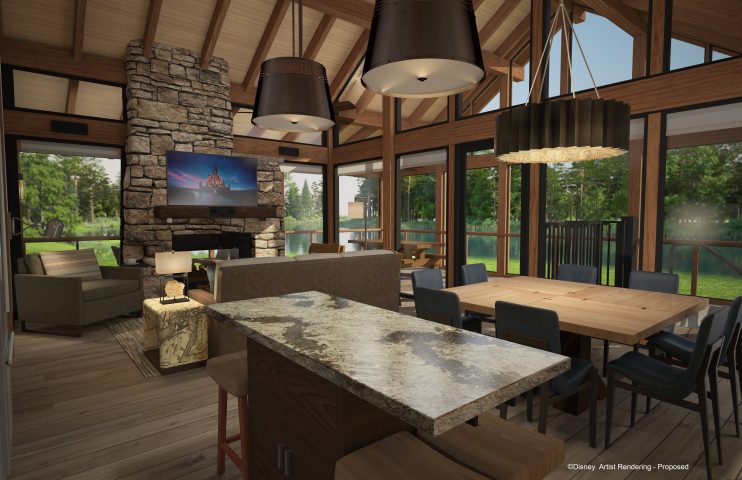 We have some really exciting news! Disney has just released an update on the Disney Vacation Club Copper Creek Villas & Cabins at Disney's Wilderness Lodge.
The Villas and Cabins feature 184 "modern, nature-inspired vacation homes" including deluxe studios, one- and two-bedroom villas, and three-bedroom Grand Villas. The new Villas and Cabins feature "rustic elegance" combined with modern design.
The 26 waterfront cabins sleep up to eight guests and feature two bedrooms, two bathrooms, a dining room and large living space. The cabins also feature floor-to-ceiling windows, exposed beams, and stone heart fireplaces. The porches also feature built-in hot tubs.
In addition to the recently-opened Geyser Point Bar & Grill, guests at the Villas and Cabins will be able to experience the new Boulder Ridge Cove Pool later this summer and the all-new Salon by the Springs for "poolside manicures, pedicures, and hair treatments."
A new sports court, BBQ pavilions, and a refurbished fire pit and movie area are slated to open this summer.
Sales for Copper Creek Villas & Cabins open March 8 for Disney Vacation Club members. General sales start April 5.
The villas and cabins are slated to open July 17.
Are you excited about the Copper Creek Villas & Cabins? Let us know in the comments.
Do you love Disney's Wilderness Lodge? Subscribe to the monthly Disney Hotels Fan newsletter! Join fellow fans over on our Facebook page and follow us on our Twitter feed @DisneyHotelsFan.