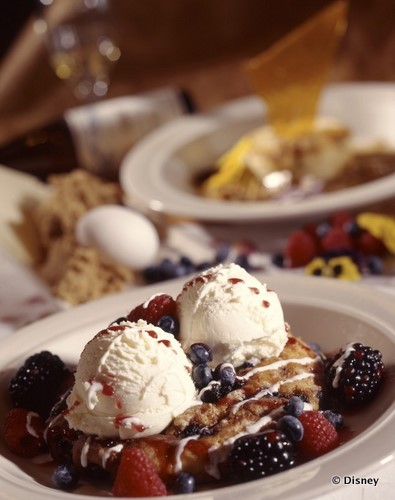 Disney fans have a way of making certain culinary dishes legendary, and the Wilderness Lodge is home to one of the big ones. At the end of your fantastic meal from the Disney signature dining establishment Artist Point, you'll want to end with the delectable fan favorite, the Artist Point Berry Cobbler.
However, if you just can't wait for your next Walt Disney World vacation to get your next bite of this luscious, sweet, tart dessert why not try your hand at making it at home! We've copied down the recipe as published in Pam Brandon's 2004 book 'Cooking With Mickey and the Disney Chefs.' The simple recipe is fairly straight forward and should turn out great even for the most inexperienced bakers. So grab your apron and start your oven! Pretty soon you'll have this legendary Disney dessert to enjoy at home.
Berry Cobbler from Artist Point, Wilderness Lodge, Walt Disney World
1 1/2 cups all purpose flour
1/2 cup sugar
2 tsp baking powder
1/2 tsp salt
4 oz (1 stick) + 2 tablspoons cold butter, cut into small pieces
1 large egg
1 cup heavy cream
12 oz. fresh blueberries
2 tblspoons light brown sugar
1/2 pint each fresh raspberries and blackberries.
8 strawberries for garnish
In a medium bowl, whisk together the flour, granulated sugar, baking powder, and salt. With a pastry blender, two knives used scissor style, or your hands, blend in 1/2 cup butter until crumbly. With a fork, stir in the egg and mix just enough to blend. Add heavy cream and mix just enough to incorporate (do not overmix).
Preheat the oven to 350 degrees f. Lightly grease a 9-in cake pan, line the bottom with wax paper and grease the paper.
Press the dough evenly into the bottom of the cake pan. Place the blueberries on top of the dough and sprinkle with the brown sugar. Place the remaining two tblspoons butter pieces over the berries.
Bake for 20-25 minutes, or until golden brown. Cool on a wire rack. Remove the cake from the pan, cut in wedges, and serve with blackberries, raspberries, and strawberries.
Have you tried making this fantastic recipe at home? Leave us a comment below and let us know how it turned out!