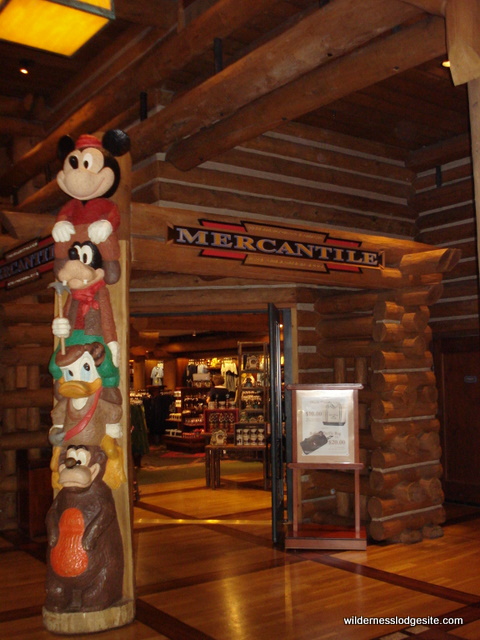 Lions, tigers and bears, oh my! Well maybe not lions and tigers – you'll have to go to Animal Kingdom for those – but bears are a common theme at Wilderness Lodge.
The Wilderness Lodge is the first Disney Resort Hotel to have an official mascot, the brown bear. If you look closely, you'll see images of bears all over the resort in cartoon, silhouette, and even shadow format. Keep your eyes peeled for brown bear tracks in the sidewalk across the street from the resort bus stop.
But was the Wilderness Lodge built in the shape of a bear? That's just one of the rumors swirling about. While it's not well-known, it has been confirmed that that the shadows cast by the resort's multi-peaked roof structure were designed to resemble a bear! You can see this well if you look at the resort from the vantage point of Bay Lake.
Some say that the bear in shadow is Humphrey the Bear, the cartoon mascot of the Wilderness Lodge Mercantile. Walt Disney Studios created Humphrey in 1950, and he starred in several Disney shorts with Goofy, then Donald. He was given his own series of theatrical shorts in 1955, but only two were produced. Humphrey is a VIP member of the Mickey Mouse Club, and he's also had roles in Chip 'n Dale Rescue Rangers, Goof Troop, Mickey Mouse Works, House of Mouse and Mickey Mouse Clubhouse.
You can find Humphrey just outside the Mercantile, holding up Goofy, Donald and Mickey on the Mercantile totem pole. Click here for more photos of the Wilderness Lodge Mercantile. You can also find Humphrey on a lot of merchandise in the Mercantile, such as t-shirts, watches, pins, mini-totem-poles and more.
And since Humphrey has gained popularity due to his appearances in newer Disney programs, we hope to see him make more appearances around the Wilderness Lodge.
Do you love Disney's Wilderness Lodge? Join fellow fans over on our facebook page and follow us on our twitter feed @DisneyHotelsFan!
This post is part of the DisMarks Disney Blog Carnival! Check it out for more great Disney-related content and information.