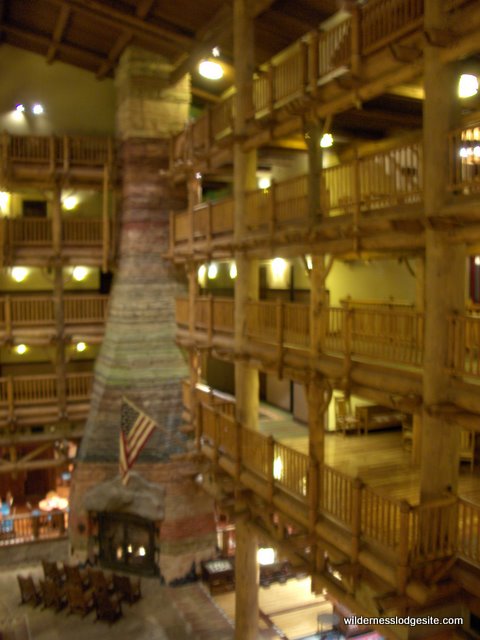 One of the most impressive features at Disney's Wilderness Lodge has got to be the towering 82-foot tall stone lobby fireplace. This unique piece of Americana is a tribute to the brilliance of design by a woman names Mary Colter, who pioneered the "National Park Rustic" style that you can find throughout the Wilderness Lodge. Mary is well known for her work on behalf of the Fred Harvey Company deigning the beautiful Bright Angel Lodge at the Grand Canyon.
The Bright Angel Lodge has a small geologic fireplace that was quarried directly from the layers of the Grand Canyon, while the massive Disney version is a work of art by Imagineering. The Geologic fireplace is built to mimic the rock structure and strata of the Grand Canyon from rim to river, representing 2,000 billion years of geologic history. Imagineering not only embraced the basic ideal of Mary's concept, but also built their structure to scale, and painstakingly added appropriate fossilized plants and animals to the layers. More than 95 colors of paint were used to achieve the magnificent effect on this 3-sided mammoth.
Like the Bright Angel Lodge the Wilderness Lodge fireplace is a focal point and gathering area to the Resort Lobby, and how could it not be, the fireplace is as high as Splash Mountain's Chickapin Hill. The base of the fireplace makes for a comfortable spot to rest in one of the many rustic, wooden rocking chairs or overstuffed leather armchairs. The Wilderness Lodge geologic Fireplace is also a favorite spot for Hidden Mickey fans with possibly several of the fun fellows either in the design or near it.
Next time you are enjoying a Walt Disney World Vacation be sure to "set a spell" and take in the grandeur of this lobby showpiece.