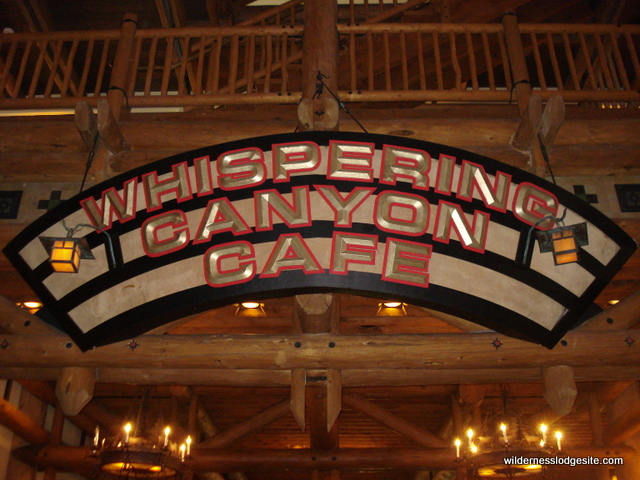 Walt Disney World Resort has a fantastic number of options for dining during your Orlando Vacation. Mealtime traditions at our favorite hotel evoke the grand lodges of the late 1800s and are captured at this fan favorite restaurant with an American West motif.
The Disney Imagineers stirred up a doozy when they concocted the homelike feeling and old-fashioned cooking style that are the highlights of Whispering Canyon Café at Disney's Wilderness Lodge. Wood-beamed ceilings, cowboys, Indians and wagon wheel chandeliers help to create the feeling of the Wild West. Floor to ceiling windows showcase tall pines and wild flowers gently swaying in the breeze, and the ambient music is all that's needed to sweep you away from central Florida and plop you down in another time. The humorous wait staff has a few tricks up their sleeve for you with a "devil may care" attitude and some infamous running gags. Ask for Ketchup and you may very well end up with every bottle in the restaurant on your table. There's lots to keep the little ones entertained as well should they happen to be traveling with you.

The stunning aromas of home fries and cooking meats welcome hungry pioneers to this fantastic Disney dining experience. At Whispering Canyon you have the choice of an a la carte menu or unbelievable family-style skillets. The Café Skillets offer bountiful selections of delicious meats that are cooked with natural cooking techniques consistent with the time period the lodge reflects. Smoking, grilling and barbecuing make for fantastic flavors that will keep you coming back again and again. Breakfast is accompanied with biscuits, gravy and Mickey Mouse Waffles. Lunch and dinner are served with salads, vegetables and homemade breads to round out the meal.
Guests on all types of Orlando Vacation will enjoy this fun restaurant that's just as enjoyable as a location for two as it is with a table of twenty. Folks with the Disney Dining Plan can expect to use 1 Table Service Credit per person for this fill you full food round up. Advanced Dining Reservations are reccomended, but if you don't have them, don't be shy! Stop in at the reception desk to see if they can fit you in as a walk up. With seating for more than 150, there are often tables available so come on over, everybody's welcome!
This may be one of my favorite in all of Walt Disney World. I'm particularly a fan of the breakfast skillet to share with family or friends.
Have you eaten at the Whispering Canyon café? Leave me a comment and let me know what your favorite dish is or if you go all out for for the skillets!