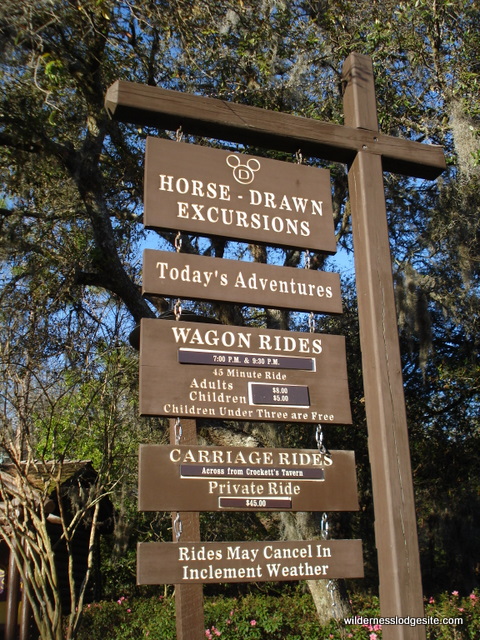 Fort Wilderness Resort is the older brother to the Wilderness Lodge. It was there when Disney World opened; it was a product of Walt Disney's own imagination.
Fort Wilderness Resort is Disney World's campground, offering spaces for the smallest tent up to the largest Recreational Vehicle, as well as one-bedroom cabins that can sleep six.
Fort Wilderness is huge and sprawling, and offers its own mini-culture as a result. Guests can rent golf carts to get around the property, and there is a huge system of bus transportation within Fort Wilderness itself to shuttle guests between the front (check-in) and back (dining, boat dock, general store, etc.) of the resort.
And because of Fort Wilderness' size and tenure at Disney World, they've incorporated dozens of fun and interesting activties into their daily agenda: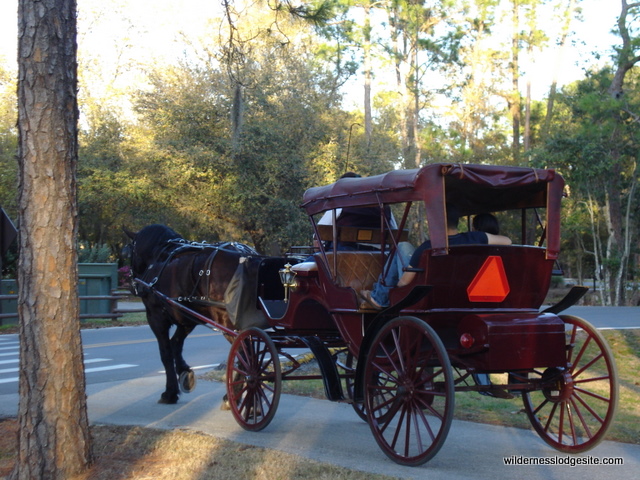 Carriage Rides: Private carriage rides cost $45.00 and take guests throughout Fort Wilderness and the adjacent trails. Call 407-wdw-play to book. During the Fall and Winter, ask about the "Haunted" Carriage Rides and "Holiday" Carriage Rides, which both cost $60.
NEW! Sleigh Rides: As of November 29, 2009, sleigh rides (sleighs with wheels, of course) will be available at Fort Wilderness. Departing from the Blacksmith's Shop near the Settlement area, each sleigh ride will last 25 minutes and cost $60 per group (four adults or two adults and three kids can fit into a sleigh). Children ages 17 and under must be accompanied by an adult. Call 407-WDW-PLAY to book.
Wagon Rides: 45 minute rides depart from the back of Fort Wilderness from 7pm-9:30pm. Adults are $8, kids are $5. Children under 3 are free.
Campfire Sing-a-Long and Movie with Chip and Dale: This is one of the only places in Disney World where you'll get interaction with characters without buying a meal or a park ticket. That's right–this is absolutely free! Take the yellow internal bus line to the "Settlement," and ask the driver to drop you off at the campfire (it is near the Meadows Trading Post area). The sing-a-long usually begins around 7, with marshmallow roasting (bring your own or buy a smores kit at the campfire snack bar for $5) and a movie following.
Archery: Every Thursday, Friday, and Saturday at 2:45pm guides lead wannabe archers through the basics of archery, followed by some target practice. Call 407-wdw-play for reservations.
Segway Tour: The Wilderness Back Trail Adventure gives guests the chance to try their hand at a Segway and explore Fort Wilderness at the same time. Call 407-wdw-tour for more information.

Hoop Dee Doo!

Mickey's Backyard BBQ: Mickey, Minnie, and their friends picnic, dance, and have a general good time with you at the BBQ Pavilion! This is at the back of Fort Wilderness, next to the Boat Dock. It occurse on Thursdays and Saturdays from March through December, and can be booked through Disney Dining at 407-wdw-dine up to 90 days in advance. There is a fee for cancellations.
Hoop Dee Doo Revue: This is usually folks' first experience with Fort Wilderness, and it's a great one! It's a dinner show, serving all you can eat barbeque with the fixin's. Showtimes are 5pm, 7:15pm, and 9:30pm. Book up to 90 days ahead (we suggest you book early!) by calling 407-wdw-dine.
Pony Rides: At the Tri-Circle-D Ranch your kiddos can take their first pony ride, or just pet the animals! Pony rides (kids under 80 lbs) are $3.
Horseback Riding: For $42, you can take a guided ride on horse back from the Tri-Circle-D Ranch through the Sherwood Forest of Fort Wilderness. Riders must be 9 years old, at least 48 inches in height, and weigh less than 250 lbs. Book up to 90 days ahead by calling 407-wdw-play. Let me say from experience, this isn't for anyone who's a whiz on horseback–but perfect for us newbies!