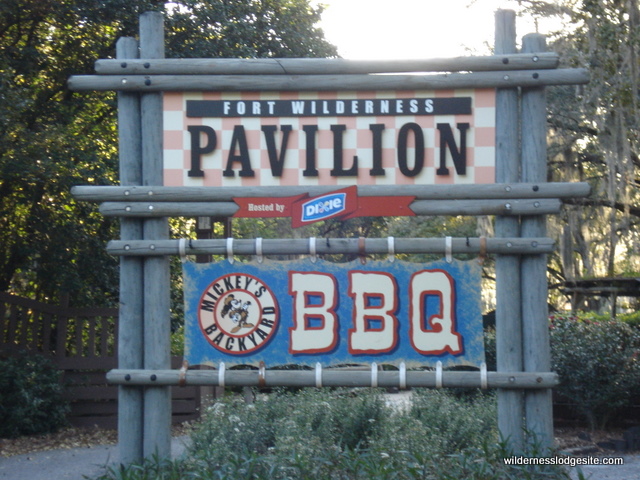 Fort Wilderness is just a skip, hop, and jump away from Wilderness Lodge, and a great plus is that the resort is full of evening activities for the entire family!
Here are a few ideas for a night of food and fun at Fort Wilderness.
Hoop-Dee-Doo Musical Revue
This classic dinner show includes music and comedy combined with an all-you-can-eat, finger-lickin' family-style dinner. With three showings nightly at 5, 7:15 and 9:30 p.m., you can make an early or a late night of it! Check out this review of Hoop Dee-Doo Musical Revue from the Disney Food Blog. To make reservations, book online or call (407) WDW-DINE up to 180 days prior to your visit. Yeehaw!
Mickey's Backyard BBQ
This is a seasonal show offered on Thursdays and Saturdays from March through December with entertainment from Mickey, Cyclone Sally and Tumbleweed Will. Sing, learn to line dance, and enjoy an all-you-care-to-eat dinner of barbeque ribs, smoked chicken, hamburgers, hot dogs, corn on the cob, watermelon and more. Click here for more info from the Disney Food Blog!
Trails's End Restaurant Dinner Buffet and Chip 'n' Dale's Campfire Sing-a-Long & Movie
If you're not opting for either of the above dinner shows, try the Trail's End Restaurant dinner buffet followed by Chip 'n' Dale's Campfire Sing-a-Long & Movie. The Trail's End buffet is a smorgasboard of American favorites, like fried chicken, ribs, and more! Click here for more info about Trail's End.
Once you've stuffed your gullet, head over to the Chip 'n' Dale's Campfire Sing-a-Long & Movie. This is a great FREE activity for the whole family! It generally begins around 7 p.m. during the fall/winter season and 8 p.m. after the Daylight Savings time change through the summer. Hosted by Chip 'n Dale, gather 'round the campfire for songs and the best part — roasted marshmallows! Then watch a classic Disney movie under the stars.
A few more activities
The Electric Water Pageant swings by the Fort Wilderness beach at 9:45 p.m. nightly.
And in October, the Haunted Carriage Ride is held nightly from 7:30 to 10:30 p.m. It's a 25-minute, Legend of Sleepy Hollow-inspired narrated nighttime carriage ride through the Ft. Wilderness woods. For pricing and reservations, call (407) WDW-PLAY.
Do you love Disney's Wilderness Lodge? Join fellow fans over on our facebook page and follow us on our twitter feed @DisneyHotelsFan!