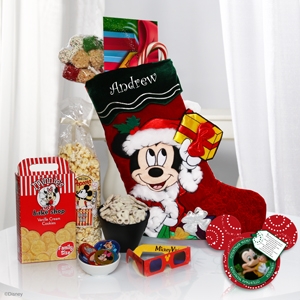 In 2011 the readers of Walt Disney World for Grown Ups voted the Wilderness Lodge the best resort to spend your winter holiday in, and we couldn't agree more! Christmas time here is even more magical because of the Northwoods inspired décor in rustic hues of red and green upon piney boughs. You may even forget that you're in sunny Florida and wonder where the snow is!
If you love to spend your winter holidays at Disney Hotels but wish the holiday décor could spread right into your room, Disney Floral and Gifts has a wide array of solutions for you! Let the enchanted florist deck the room and surprise your family with personalized Santa Mouse Ears, Mickey Stockings full of surprises, or even a fully decorated 4 ft tall Christmas Tree!
This year, if you're dreaming of a Disney Christmas, things just got even more magical with the 2012 "Dreaming of a Disney Christmas" custom in-room holiday celebration.
A special Christmas sash over the door to heralds your welcome and you know something special is about to begin. Once inside, you'll notice Luminaries shining around the room. On the bed, a plush Mickey Mouse and Minnie Mouse, dressed in holiday hats, wait for you. A friendly note tells you about the presents Mickey and Minnie have left you. Mickey's present is a "Memory Making Box" full of surprises and activities for your time in the room and the parks. Minnie's "Disney Kiss Goodnight" has everything you need to enjoy a magical evening with loved ones. Together, Mickey and Minnie have left everything you need to make your Disney Christmas one to remember!
For more details on how to turn your Disney Hotel room into a magical holiday treat all its own contact the Memory Makers at Disney Floral & Gifts. Call (407)WDW-GIFT (4438), 8:00 a.m. – 6:00 p.m. seven days a week. Please allow 48 hours notice to make your dreams come true!
Product availability is subject to change. Experience the magic of all the in-room décor with delivery beginning Sunday, November 4, 2012.