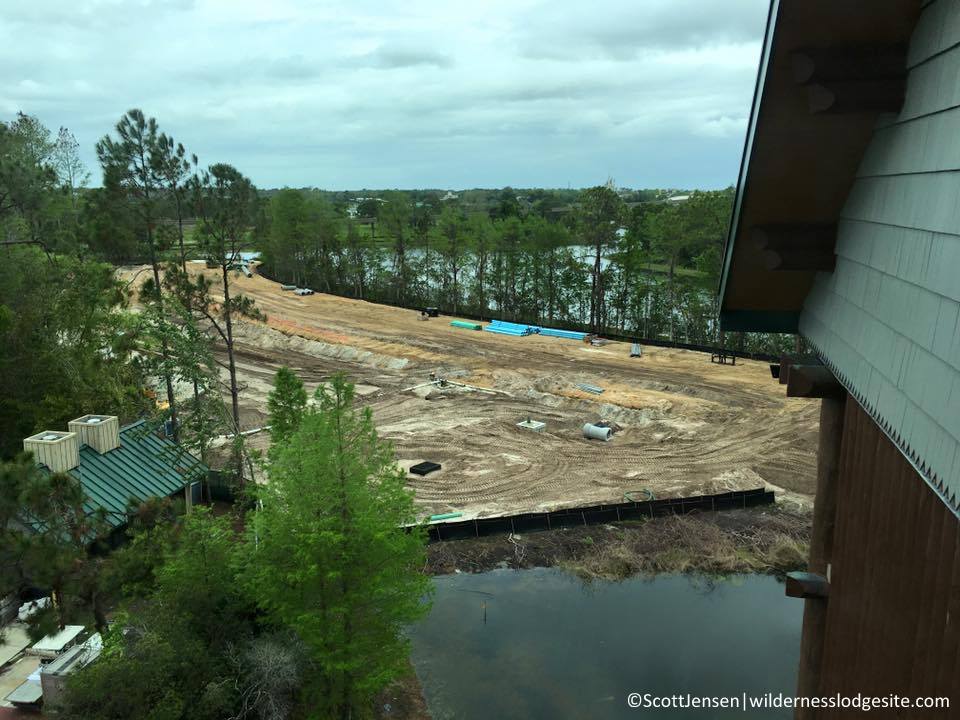 The construction continues at Disney's Wilderness Lodge and over on our Facebook page we've had some questions about how the construction will affect upcoming stays at the resort.
Based on the photos we just received from our friend Scott Jensen we think it's safe to say that you'll definitely notice that there is construction happening.
The is a rather large area of construction walls visible from the lobby (if you look up – which one tends to do when viewing the amazing lobby at Wilderness Lodge).
And if you're in the DVC Villas you'll definitely see a lot of working areas – the former Hidden Springs Pool area is all dirt as they are working on building a new pool area.
If you happen to be in "woods view" rooms on the north side of the resort (facing the Contemporary and the Magic Kingdom) you won't see much in the way of woods – at least not woods like they used to be. There is a sizeable construction site where some of the DVC waterside cabins will presumably be built. On the up side, if you're on a lower floor the lack of trees means you MIGHT be able to see Wishes from your balcony. And those of you on the upper floors will definitely have a better view of Wishes!
You can check out the photos of the construction here. And if you want to see of of Scott's photos you can check out his Facebook page.
Thanks again to Scott for sharing his photos with us. If you are visiting the Wilderness Lodge and want to share photos with us send them to [email protected] or share them on our Facebook page.
Is the ongoing construction keeping you away from Wilderness Lodge? Let us know in the comments.
Do you love Disney's Wilderness Lodge? Subscribe to the monthly Disney Hotels Fan newsletter! Join fellow fans over on our Facebook page and follow us on our Twitter feed @DisneyHotelsFan.