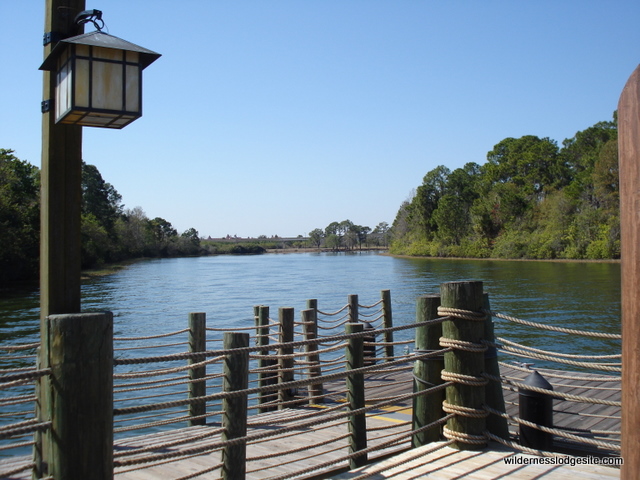 From the vantage point of Bay Lake, Wilderness Lodge and Contemporary Resort look like polar opposites. But both resorts have so much to offer, so that's why we're letting them duke it out in our Wilderness Lodge vs. Contemporary Resort championship bout! Let's look at some key categories and see them duke it out, Bay Lake-style.
Guest Rooms
Over at the Contemporary, guest rooms are modern and sleek. But over at Wilderness Lodge, guest rooms are rustic and homey. Polar opposites, right? We're going to have to give the edge here to Wilderness Lodge, though, with its elaborately carved headboards and comfortable atmosphere that makes you feel like you're in a cabin in the Rockies! The Winner: Wilderness Lodge.
Location
This is another tough category to judge, because both resorts are situated on the shores of Bay Lake in the Magic Kingdom resort area. However, Wilderness Lodge has access to the Magic Kingdom via boat or bus only, while Contemporary also adds the monorail and walking distance to the Magic Kingdom transportation mix. If a feeling of solitude is what you crave, Wilderness Lodge is a great pick. But if you want to feel the Disney magic, then you can't beat being *thisclose* to Space Mountain! The Winner: Contemporary Resort.
Unique Features
The Contemporary has the monorail, the history, the mural, and the unique architecture. But Wilderness Lodge has the Flag Family program, the Carolwood Pacific Room, the Firerock Geyser and many other unique features and amenities. The Winner: Wilderness Lodge.
Dining CR
Wilderness Lodge boasts several wonderful dining options: Roaring Fork counter service, Whispering Canyon Cafe table service, and signature dining at Artist Point. But Contemporary Resort knocks it out of the ballpark with even more options: Contempo Cafe counter service, Chef Mickey's character dining, The Wave table service, and signature dining atop the resort at California Grill. The winner: Contemporary Resort.
Overall, we can't pick a winner here — they're tied! The Contemporary wins in the Location and Dining categories, while Wilderness Lodge wins in the Guest Rooms and Unique Features categories. Ultimately, it's up to you and your personal preferences to decide which Bay Lake resort is best for you!
Do you love Disney's Wilderness Lodge? Join fellow fans over on our facebook page and follow us on our twitter feed @DisneyHotelsFan!